LW300KV Wheel loader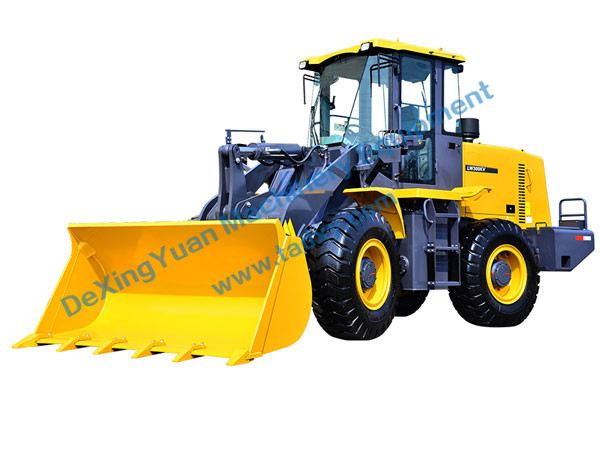 ● A powerful WEICHAI WP6G125E333 engine powers the LW300KV wheel loader,The engine features high torque reserve,environmental protection and fuel efficiency at the sam time,the area of heat dissipation of the radiator is enlarged to get a better heat dissipation effect,which conquers the problem of high oil temperature in torque converter,resulting in enhanced reliability of the driveline.
● The one-piece instruments panel and steering wheel can be easily adjustable to provide the greatest driver comfort for high productivity.
● Two-lever control makes gear shifting easy and flexible.It is unnecessary to stop the machine when shifting to higher speed.
● Of 4-wheel disc brake,the drive axles,front fixed and rear oscillating around the center pivot,help assure four-wheel ground contact for optimum traction and stability.Unique power take-off makes transmission efficent and reliable.
● The linkage mechanism is well sealed to ensure good lubrication to the pin shaft.
● A new and spacious one-piece type cab offers all round visibility and high levels of comfort.
● Separated torque converter(single stage,3 element0 and transmission(countershaft),simple in structure,features consistent performance,high reliability and easy maintenance.
● The overall structural strength is greatly improved via finite element analysis of stress.Stress concentration is avoided and parts to be under heavy load been strengthed ,so that the loader frame can adapt to severe heavy-duty applications.The unique structural form of the fear frame provides perfect accessibility for maintenance.
● The working pressure in the hydraulic system is 16Mpa,which is well suitable for heavy-duty applications.
● Optimum weight distribution thanks to the rear-mounted fuel tank allows the loader to maintain good operating stability longitudinally.The suction port with internal small chamber improves the oil absorption capacity,At the same time,the fill port is moved upward for faster oil filling.
● The thoughtful configuration and design provide a comfortable and easy operating environment,allowing the operator to be more productive.
LW300KV Wheel loader 2017-7-10 This article has been read 1320 Secondary